Benefits of Stamping over Cut Processing - Flow - From Placing an Order to Production


At Gotos, all the processes for the die manufacturing are owned in-house, from designing, processing, and assembly to maintenance. Our dies are created using a nesting configuration (a method in which the dies are partitioned into units), which allows worn-out parts to be replaced as needed. Therefore, Therefore, the shelf life of dies in our company is longer than that of other companies, meaning that manufacturing cost for unnecessary dies can be saved.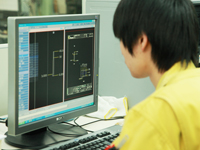 Die Design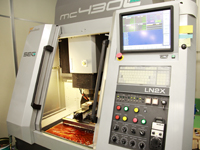 Cut Processing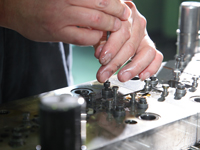 Die Assembly Work

We have 61 units of stamping machines, ranging from 25 to 200 tons, to accommodate various sizes. Our skilled technicians carry out the fine tuning of the machines, keeping in mind the temperature of the particular day and warming up speed of the machines. Hence we are able to continue to manufacture a product with high quality.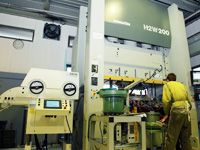 200-ton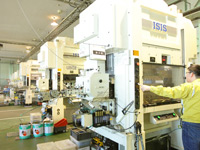 Factory Line of Fukushima Product Center
High-speed Operations
This video illustrates high-speed operations of stamping.

This is a process which removes oil content or minor debris, etc., attached to the product. The fine grinding stones are added inside the washing tank. The mixing of the grinding stones is a matter of some technical expertise. Here at Gotos, we choose the grinding stone optimal for each product and carry out tumbling washing.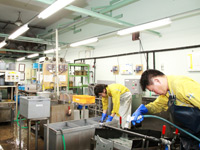 Tumbling Washing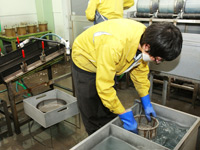 Tumbling Washing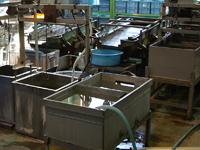 Tumbling Washing


We have an electrolytic /non-electrolytic nickel line. Plating is done here for the products for which it is necessary. The customer will see advantages such as a shortened deadline, guaranteed confidentiality, etc., since the plating process is carried out in-house.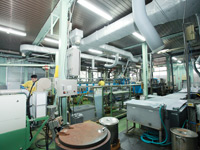 Plating Process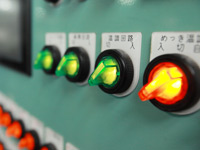 Plating Process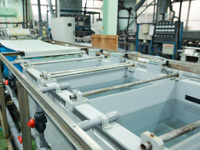 Plating Process

We have introduced state-of-the-art instruments in our inspection department and have established a system for preventing defective components. The QA department analyzes quality both from the stamping and plating technology sides and guarantees the quality. The element analysis instrument has also been introduced to further meet the high quality requirements from the customers.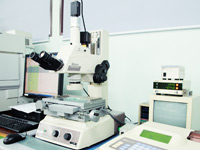 Toolmaker's microscopes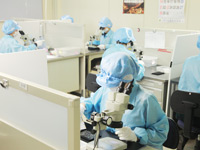 Inspection Work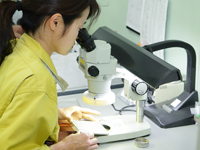 Inspection Work

Our company has developed a direct selling system to overseas. We can quickly deliver components at low cost to factories overseas as well as in Japan.